Roof Installation in Austin, TX
For new roof installation in Austin, TX or surrounding areas, trust the experts at DG Roofing & Construction. Contact us today for a free estimate.
Austin's Top Roof Installation Professionals
When it comes to installing a new roof, you need a team of professionals you can rely on for superior craftsmanship, quality materials, and exceptional service. At DG Roofing & Construction, we are your trusted experts in roof installation in Austin, TX, and the surrounding areas. With years of experience in the industry, we have the knowledge and expertise to handle all your residential, commercial, and industrial roofing needs.
Choose DG Roofing & Construction for Your Austin Roof Installation
Expertise and Experience: Our team consists of highly skilled and experienced roofing professionals who are dedicated to delivering outstanding results. We stay updated with the latest industry trends, techniques, and materials to provide you with the best roofing solutions.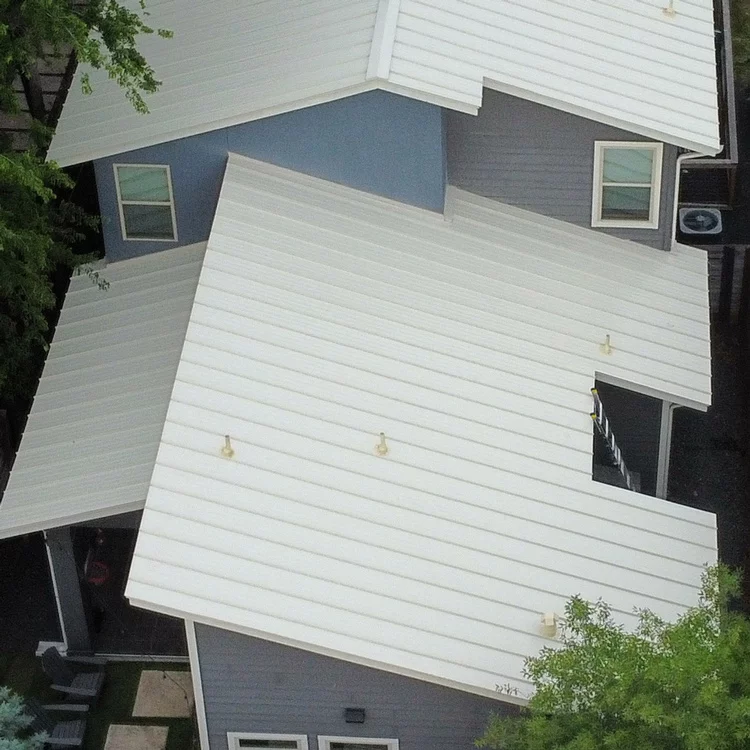 Beautiful Roof, Fast and Affordable
"Highly recommend DG Roofing, very professional & reliable! The Roof looks amazing! Very satisfied with their work!"
Residential Roof Installation
Your home is a reflection of your personal style and a significant investment. At DG Roofing & Construction, we specialize in residential roof installations that enhance the beauty, functionality, and value of your property. Whether you're looking for a traditional asphalt shingle roof or a modern metal roof, our team will guide you through the selection process and provide expert installation services.
Commercial Roof Installation
A well-maintained and reliable roof is vital for the success of your business. Our commercial roof installation services are designed to provide durable solutions that protect your commercial property from the elements. From flat roofs to sloped roofs, we have the expertise to handle a wide range of commercial roofing systems. Our team will work closely with you to ensure minimal disruption to your business operations.
Industrial Roof Installation
Industrial facilities require robust roofing systems that can withstand the demands of heavy machinery and harsh environmental conditions. Our industrial roof installation services are tailored to meet the specific requirements of warehouses, manufacturing plants, and other industrial structures. We utilize high-quality materials and employ specialized techniques to deliver durable and reliable roofing solutions for your facility.
Contact Us for Professional Roof Installation Services in Austin
When it's time to install a new roof, trust the experts at DG Roofing & Construction to deliver exceptional results. Our commitment to superior craftsmanship, top-quality materials, and unmatched customer service sets us apart as the premier roofing company in Austin, TX. Contact us today to schedule a consultation and let us transform your property with a beautiful, durable, and long-lasting roof.