Expert Austin
Roofing Company
For expert Austin roof installations, roof repairs, roof inspections and more, contact DG Roofing & Construction today.
Welcome to DG Roofing & Construction
Your Trusted Austin, TX Roofing Experts
At DG Roofing & Construction, we understand the importance of having a sturdy and reliable roof over your head. We are a premier roofing company serving the vibrant city of Austin, Texas, and its surrounding areas. With our commitment to exceptional craftsmanship, unmatched customer service, and top-quality materials, we have built a solid reputation as the go-to roofing experts in the region.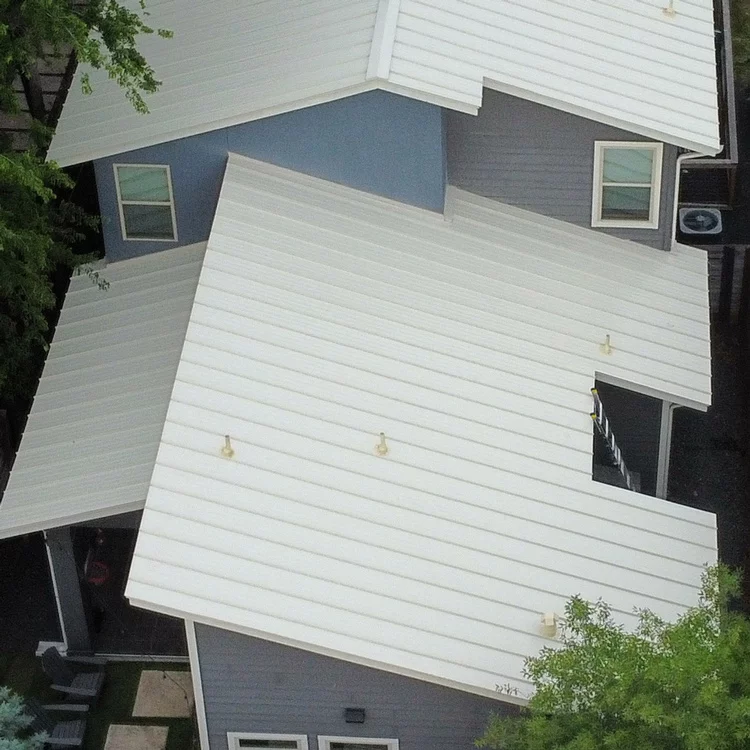 Beautiful Roof, Fast and Affordable
"Highly recommend DG Roofing, very professional & reliable! The Roof looks amazing! Very satisfied with their work!"
Protecting Your Family and Your Investment
Residential Roofing
Your home is your sanctuary, and it deserves the best protection. Our residential roofing services are designed to provide the highest level of craftsmanship and durability. From asphalt shingles to metal roofing, we offer a wide range of materials and styles to suit your taste and budget. Our team of experienced roofers will ensure that your residential roofing project is completed with the utmost care and professionalism.
Reliable Solutions for Your Business
Commercial Roofing
As a business owner, you understand the importance of a well-maintained roof for the success of your enterprise. At DG Roofing & Construction, we offer comprehensive commercial roofing services tailored to meet the unique needs of your business. From office buildings to retail spaces, we have the expertise and resources to handle commercial roofing projects of any size. Trust our skilled team to deliver exceptional results that protect your business and enhance its curb appeal.
Specialized Solutions for Industrial Facilities
Industrial Roofing
Industrial facilities require robust roofing systems that can withstand harsh conditions and provide maximum protection. Our industrial roofing services are tailored to meet the specific requirements of warehouses, manufacturing plants, and other industrial structures. Whether you need roof repairs, replacements, or maintenance, our experienced team is equipped to handle the demands of industrial roofing projects. Rest assured that your facility will be in capable hands.
Choose DG Roofing & Construction for Your Roofing Needs
When it comes to roofing in Austin, TX, DG Roofing & Construction is the name you can trust. We are committed to delivering exceptional results, unmatched customer service, and complete satisfaction. Whether you need a roof replacement, roof repair, roof inspection, gutter installation, siding, or specialized roofing services, our team of experts is ready to serve you. Contact us today for a free consultation and experience the DG Roofing & Construction difference.